Hey readers,
I need your help!
I've been awestruck by the MOONSPOON SALOON x BUFFALO platform sneakers I've been seeing online, and I knew I had to have a pair of shoes like them -- and I say 'like them' because I can't even really afford Jeffrey Campbell shoes, much less MOONSPOON SALOON.
With the aid of the wonderful
Isabel Spectre
, I scored
these affordable white platform sneakers
on eBay: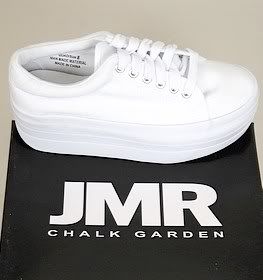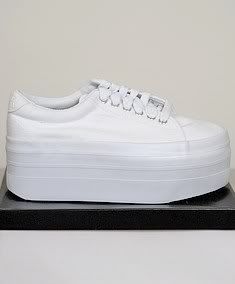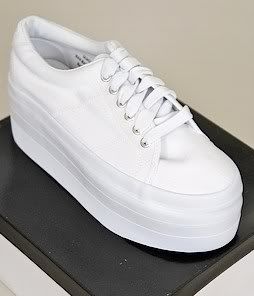 I know I want to do some DIY with them, mainly just changing the colour, but...I can decide on what I want to do! I really love the spray painted MSS shoes I've seen so far: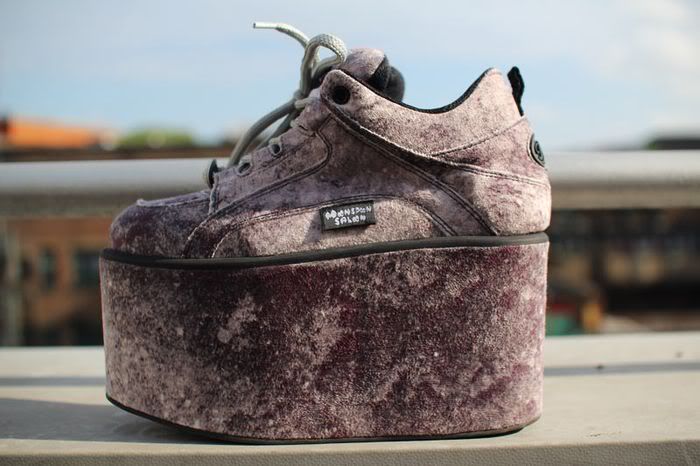 I just really don't know where to start. I don't have a lot of experience in spray painting, but I can definitely practice on cardboard what I want to do to my shoes... I'm mainly at a loss of what colours to pick. I know I want dual coloured shoes, probably involving black. (I keep flip-flopping on if I want a black base, or not. I can't decide on ANYTHING!)
Do you guys have any ideas? Any inspiring photos? Can you think of a cool colour combo? I want to be able to wear these shoes with a huge variety of outfits, so I'm almost leery of picking a crazy colour combination like
turquoise and coral
, or anything like that... But I also love the idea of mixing neon colours, and I feel like these shoes won't ever really "match" in the true sense of the word. I think I'm just really nervous since I have ONE pair of these shoes and ONE shot at this!
Give me ideas, please! ♥