Okay, I am seriously so happy for the response for this past giveaway! I was blown away at the amount of people who entered; thank you so much, you guys. I really do hope that you do find my blog enjoyable to read, and I do have every intention of having more giveaways. You guys are the best. ♥
I am also so, so excited for the winner of the Leopard Top Giveaway!
I decided to be a bit nice about counting the entries, since quite a number of people didn't make separate comments for each additional entry. The number of comments was forty-nine (technically forty-eight, as the lovely Isabel left a non-entry comment) and yet there were actually sixty entries. Seemed like a lot of entries to disqualify, and I didn't want to be mean. So, I counted everyone's additional entries anyway.
So, with sixty entries, Random.org decided a winner...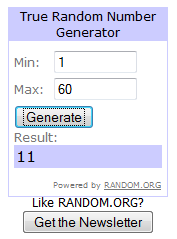 And the eleventh entry was...

LARISSA BLINTZ! Blogger of
Velvet Codeine
and owner of
Miracle Eye
! I couldn't even believe it when I counted to her entry. I will be emailing the winner as soon as this is posted!
Thank you guys, SOOO much, for entering! I already hope to have a SOULMATES giveaway in the future if it kicks off nicely, so you'll definitely have that to look forward to. ♥
Tweet