Top: thrifted • Red bustier: Sparkle and Fade (Urban Outfitters) • Jeans: Eyeshadow • Shoes: Etsy • Ruana: Staring at Stars (Urban Outfitters) • Headband: borrowed • Earrings and choker: Hyannis, Cape Cod • Ear cuff: Ebay • Necklace: Forever21 • Bracelet: Waloosi's, North Leominster
Adam Ant meets Jim Morrison.
These photos can not possibly suggest how cold it was when they were taken, and I'm not entirely sure that words can, either. Granted, it was 43 degrees at the time -- which isn't terrible -- but with the overpowering wind we've been having for the past few days, wind chill was at 31. Degrees.
Fahrenheit
. As in below freezing. (Kathryn was worse off than me; she had just showered and hadn't dried her hair. I don't know how she didn't die.) Alas, taking photos inside wasn't an option (we have the worst windows for sunlight; the only well-lit room in the house in terms of natural light is the kitchen) and I haven't figured out how to make my photos come out less-than-shitty with artificial light.
The best summation of what this time of the year is like where I live is probably this video.
And the best summation for how Kathryn and I act, possibly.
And despite all of the icy, whipping wind, we actually came out with a ton of great shots! I initially narrowed it down to twenty, and it took me forever to get it down to this. I feel so vain.
Another thing about the wind: it did a number on my hair. It looked way cooler before the breeze got to it: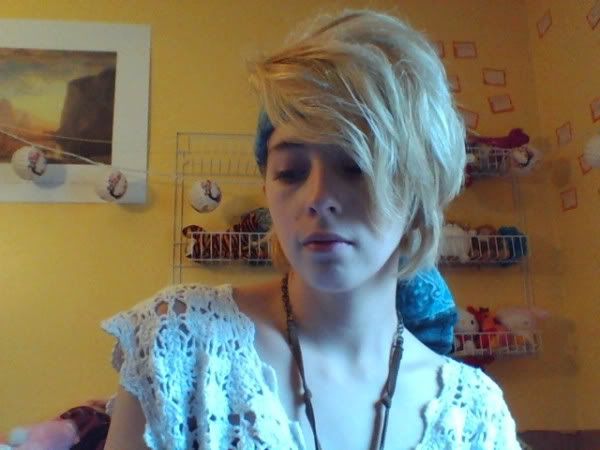 I know you guys dig my plushie collection back there. I am such an adult.
Basically the same, but a lot more boost. the wind kept yanking it up and throwing it back down on my head, and it lost most of its height. Turns out Aussie brand hairspray doesn't hold up. Y'know, unless you don't move. You get what you pay for when you depend on Target for your beauty needs.
And while I'm just spamming you guys with random stuff because I'm extremely bored, I wanted to further my point from earlier on during my 'ohh it's so cold here' tangent and how Kathryn's Norwegian blood makes her immune to the cold (apparently):
SHE IS INSANE. Also
check her out
. I think her waist is smaller than mine by like, an inch or two. HOW.
I think we need to bully her into starting a fashion blog, because this outfit was so adorable. Or maybe I'll start a fashion blog for her and post for her, as well...because that doesn't sound creepy, right?
So leave a comment and start bugging her. ♥
Tweet